Casey wrote with more info regarding the previous post about Pelham. The command center in the movie is fake (as expected), because the real command center looks too sophisticated. NPR had this quote from John Johnson (spelling?), New York City Transit's Chief Transportation Officer:
"They actually … attempted to downplay what the existing control center looks like, because they wanted to make it look real to the average eye as compared to… we're pretty Star Trekky up in the new control center now."
So that would explain the newish typeface used in the image, and the general dumbing-down of the display. The audio from the NPR story is here, with the quote near the 3:00 mark.
This is the only image I've been able to find of the real command center: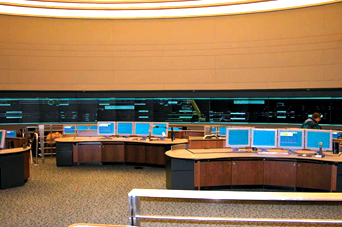 Links to larger/better/more descriptive images welcome!