Genetics projects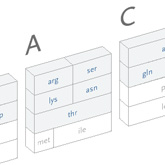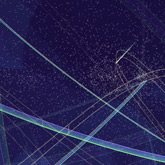 A redesign of traditional diagrams of the genetic code to clarify and highlight patterns in the data. Includes an interactive version that depicts how the code works. (2001, updated 24 February 2008)
Combination of several different representations of haplotype data into a single interactive tool. (2001, updated February 2004)
The biologist's calculator: a genome browser that runs on a handheld device. (2001)
Tools
This tool creates a bifurcation plot suitable for publication from a set of haplotype data. Given a set of SNPs that define a "core" region, the program creates an image of how individual genotypes differentiate from that point.
Implementation of the CAST algorithm to cluster microarray data, developed for a class project
Illustrations
Cover for the journal Nature, announcing the completion of the first phase of the HapMap project.
An illustration of how the gene FOXP2, believed to be connected to language acquisition, differs in humans versus chimps.
Large format (9 x 18 feet) print of all the known and predicted genes in the human genome
Installation depicting thirteen million letters (one quarter) of human chromosome 21, colored by their use
Poster depicting all the genes of chromosome 14 in the human genome
The A, C, G, and T letters of human chromosome 22 shown in a three pixel font
Papers