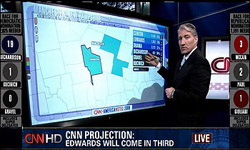 I missed seeing it live, but was told about it by a baffled friend who muttered about watching CNN and that the anchors were having a little too much fun with a new touch-screen toy while they covered returns for the primaries. The Washington Post provides more details.
Standing in front of an oversize monitor, King began poking, touching and waving at the screen like an over-caffeinated traffic cop. Each movement set in motion a series of zooming maps and flying pie charts, which King was then able to position around the screen at will.
The story also references Tim Russert's much-talked-about (and I'd-forgotten-about) whiteboard scribbling for the 2000 election, which has me wondering about which presentation was actually more informative for viewers.
Thankfully, The Daily Show provides some insight: