Beautiful info graphic from a September 2007 article about the restoration of the Guggenheim, depicting the cracks in the concrete walls. From the image:
Since the Guggenheim Museum opened in 1959, Frank Lloyd Wright's massive spiral facade has been showing signs of cracking, mainly from seasonal temperature fluctuations that caus the concrete walls, built without expansion joints, to contract and expand.
The image is partly striking for the contrast between the NYT-style geometric graphic and pale colors mixed with the organic shape of the cracks. Wonderful.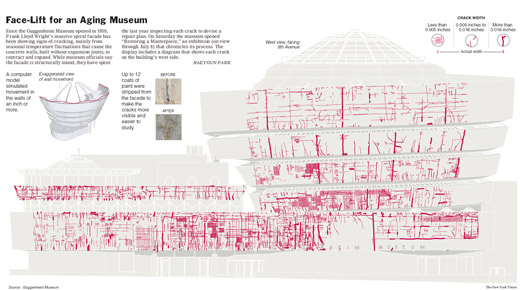 Sent from one of my former students at CMU (you know who you are, drop me a line if it was you…I've lost the original message!)