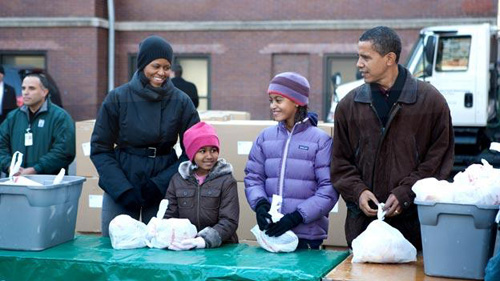 That we are in the midst of crisis is now well understood. Our nation is at war, against a far-reaching network of violence and hatred. Our economy is badly weakened, a consequence of greed and irresponsibility on the part of some, but also our collective failure to make hard choices and prepare the nation for a new age. Homes have been lost; jobs shed; businesses shuttered. Our health care is too costly; our schools fail too many; and each day brings further evidence that the ways we use energy strengthen our adversaries and threaten our planet.

These are the indicators of crisis, subject to data and statistics. Less measurable but no less profound is a sapping of confidence across our land – a nagging fear that America's decline is inevitable, and that the next generation must lower its sights.
For the politically-oriented math geek in me, his mention of statistics stood out: we now have a president who can actually bring himself to reference numbers and facts. I searched for other mentions of "statistics" in previous inaugural speeches and found just a single, though oddly relevant, quote from William Howard Taft in 1909:
The progress which the negro has made in the last fifty years, from slavery, when its statistics are reviewed, is marvelous, and it furnishes every reason to hope that in the next twenty-five years a still greater improvement in his condition as a productive member of society, on the farm, and in the shop, and in other occupations may come.
Progress indeed. (And what's the term for that? A surprising coincidence? Irony? Is there a proper term for such a connection? Perhaps a thirteen letter German word along the lines of schadenfreude?)
And it's such a relief to see the return of science:
For everywhere we look, there is work to be done. The state of the economy calls for action, bold and swift, and we will act – not only to create new jobs, but to lay a new foundation for growth. We will build the roads and bridges, the electric grids and digital lines that feed our commerce and bind us together. We will restore science to its rightful place, and wield technology's wonders to raise health care's quality and lower its cost. We will harness the sun and the winds and the soil to fuel our cars and run our factories. And we will transform our schools and colleges and universities to meet the demands of a new age. All this we can do. And all this we will do.