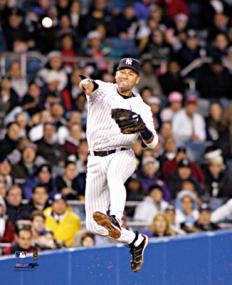 Derek Jeter vs. Objective Reality is an entertaining article from Slate regarding a study by Shane T. Jensen at the Wharton School. Nate DiMeo writes:
The take-away from the study, which was presented at the annual meeting of the American Association for the Advancement of Science, was that Mr. Jeter (despite his three Gold Gloves and balletic leaping throws) is the worst-fielding shortstop in the game.
The New York press was unhappy, but the stats-minded baseball types (Sabermetricians) weren't that impressed. DiMeo continues:
Mostly, though, the paper didn't provoke much intrigue because Jeter's badness is already an axiom of [Sabermetric literature]. In fact, debunking the conventional wisdom about the Yankee captain's fielding prowess has become a standard method of proving the validity of a new fielding statistic. That places Derek Jeter at the frontier of new baseball research.
Well put. Mr. Jeter defended himself by saying:
"Maybe it was a computer glitch"
What I like about the article, aside from a objective and quantitative reason to dislike Jeter (I already have a quantity of subjective reasons) is how the article frames the issue in the broader sports statistics debate. It nicely covers this new piece of information as a microcosm of the struggle between sabermetricians and traditional baseball types, while essentially poking fun at both: the total refusal of the traditional side to buy into the numbers, and the schadenfreude of the geeks going after Jeter since he's the one who gets the girls. (The article is thankfully not as trite as that, but you get the idea.)
I'm also biased since the metric in the paper places Pokey Reese, one of my favorite Red Sox players of 2004 as #11 amongst second basemen between 2000-2005.
And of course, The Onion does it better:
Experts: 'Derek Jeter Probably Didn't Need To Jump To Throw That Guy Out'

BRISTOL, CT—Baseball experts agreed Sunday that Derek Jeter, who fielded a routine ground ball during a regular-season game in which the Yankees were leading by five runs and then threw it to first base using one of his signature leaps, did not have to do that to record the out. "If it had been a hard-hit grounder in the hole or even a slow dribbler he had to charge, that would've been one thing," analyst John Kruk said during a broadcast of Baseball Tonight. "But when it's hit right to him by [Devil Rays first-baseman] Greg Norton, a guy who has no stolen bases and is still suffering the effects of a hamstring injury sustained earlier this year… Well, that's a different story." Jeter threw out Norton by 15 feet and pumped his fist in celebration at the end of the play.
In other news, I can't believe I just put a picture of Jeter on my site.