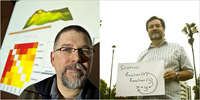 Article from the New York Times a bit ago, covering R, everyone's favorite stats package:
R is also the name of a popular programming language used by a growing number of data analysts inside corporations and academia. It is becoming their lingua franca partly because data mining has entered a golden age, whether being used to set ad prices, find new drugs more quickly or fine-tune financial models. Companies as diverse as Google, Pfizer, Merck, Bank of America, the InterContinental Hotels Group and Shell use it.
R is also open source, another focus of the article, which includes quoted gems such as this one from commercial competitor SAS:
"I think it addresses a niche market for high-end data analysts that want free, readily available code," said Anne H. Milley, director of technology product marketing at SAS. She adds, "We have customers who build engines for aircraft. I am happy they are not using freeware when I get on a jet."
Pure gold: free software is scary software! And freeware? Is she trying to conflate R with free software downloads from CNET?
Truth be told, I don't think I'd want to be on a plane that used a jet engine designed or built with SAS (or even R, for that matter). Does she know what her product does? (A hint: It's a statistics package. You might analyze the engine with it, but you don't use it for design or construction.)
For those less familiar with the project, some examples:
…companies like Google and Pfizer say they use the software for just about anything they can. Google, for example, taps R for help understanding trends in ad pricing and for illuminating patterns in the search data it collects. Pfizer has created customized packages for R to let its scientists manipulate their own data during nonclinical drug studies rather than send the information off to a statistician.
At any rate, many congratulations to Robert Gentleman and Ross Ihaka, the original creators, for their success. It's a wonderful thing that they're making enough of a rumpus that a stats package is being covered in a mainstream newspaper.
Arrrr!