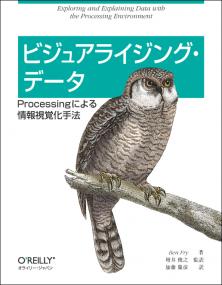 I'm incredibly pleased to write that O'Reilly Japan has just completed a Japanese translation of Visualizing Data. The book is available for pre-order on Amazon, and has also been announced on O'Reilly's Japanese site.
Having the book published in Japanese is incredibly gratifying. Two of my greatest mentors (Suguru Ishizaki at CMU, and later John Maeda at MIT) were Japanese Americans who trained at Tsukuba University, training that informed both their own work and their teaching style.
I first unveiled Processing during a two week workshop course at Musashino Art University in Japan in August 2001, working with a group of about 40 students. And in 2005, we won the Interactive Design Prize from the Tokyo Type Director's Club.
At any rate, I can't wait to see the book in person, this is just too cool.