Someday I want to write like Ludacris, but for now I'll enjoy info graphics of his work. Luda not only knows a lot of young ladies, but can proudly recite the range of area codes in which they live. Geographer (and feminist) Stefanie Gray took it upon herself to make a map: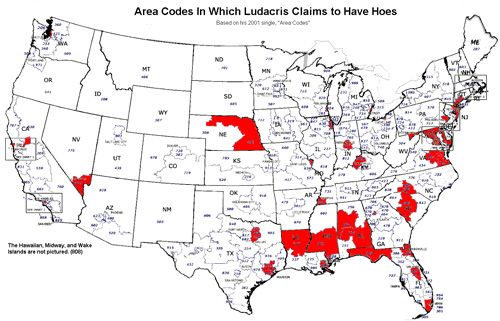 You'll need background music while taking a look; and I found a quick refresher of the lyrics also informative. More discussion and highlights of her findings can be found on Strange Maps, who first published Stefanie's image.
In related news, someone else has figured out Rick Astley: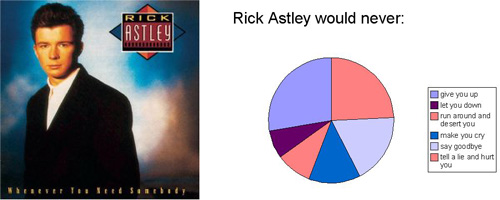 I've added the album cover at left so that you can look into his eyes and see his honest face for yourself. If you're not a proud survivor of the 80s (or perhaps if you are), the single can be had for a mere 99¢. Or if that only gets you started, you can pick up his Greatest Hits. Someone also made another version of the graphic using the Google chart API (mentioned earlier), though it appears less analytically sound (accurate).
More from song charts at this earlier post.