I'm so completely impressed with this incredible bit of info graphic awesomeness distributed by the office of John Boehner, Republican congressman from Ohio's 8th District. The flow chart purports to show the Democrats' health care proposal: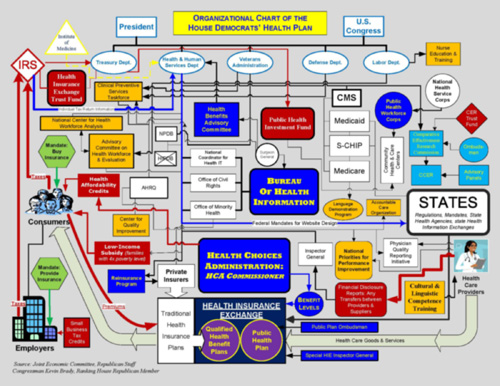 The image needs to be much larger to be fully appreciated in its magnificent glory of awfulness, so a high resolution version is here, and the PDF version is here.
The chart was used by Boehner as a way to make the plan look as awful as possible — a tactic used to great effect by the same political party during the last attempt at health care reform in 1994. The diagram appears to be the result of a heart-warming collaboration between a colorblind draughtsman, the architect of a nightmarish city water works, and whoever designed the instructions for the bargain shelving unit I bought from Target.
Don't waste your time, by the way — I've already nominated it for an AIGA award.
(And yes, The New Republic also created a cleaner version, and the broader point is that health care is just a complex mess no matter what, so don't let that get in the way of my enjoyment of this masterwork.)
Additional perspective from The Daily Show (my original source) follows.